STUBBEN 17.25" MW ROMANUS C.L. DRESSAGE SADDLE 0560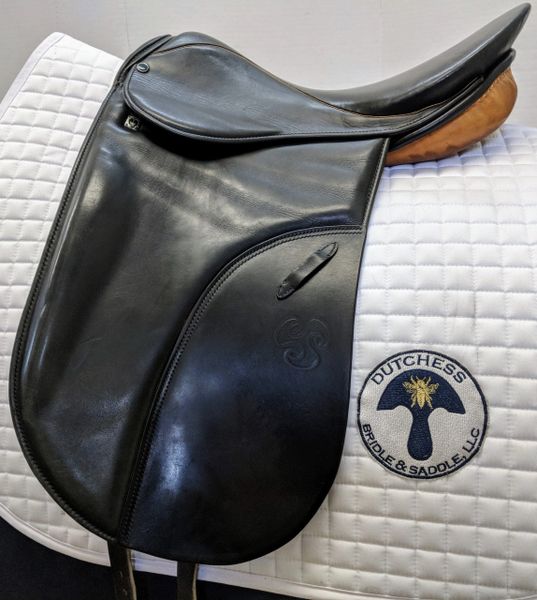 STUBBEN 17.25" MW ROMANUS C.L. DRESSAGE SADDLE 0560
THE  STUBBEN 17.25 MW ROMANUS C.L. # 0560 DRESSAGE SADDLE FEATURES:
LEATHER: Regular saddle leather
PANEL TYPE:  This is a wool flocked panel with a non gusseted front and upswept rear
FLAP LENGTH: 17" flap   - considered a long flap
GULLET CHANNEL WIDTH:   TOP 6  "/ MIDDLE  1.5 "/  BACK  1.5 "
TREE FITTING: MW  measures  approx.  31.5cm  at the bottom of the tree points.  This is a 315 tree
SADDLE AGE: unknown
REPAIRS:  none needed at this time
ADDITIONAL FEATURES:  This saddle features a generous 17" seat measuring not quite 17.5".  It has shallow upright thigh blocks incorporated into the flap knee pad.  "External blocks"  It is stamped "CC" under the near side skirt  under the brand plate.
SERIAL NUMBER: 918055
MEASUREMENT DISCLAIMER
The fit of every saddle is unique.  Even if the makers, models and sizes are the same between two saddles, the fit may be different.  Adjustments and customizations may have been made or models may have changed over the years.  In the case of hand-made saddles, no two saddler's work is exactly alike.  All measurements provided have either been taken directly from saddle stamps or are approximate measurements taken by DBS staff.  This information is provided as a courtesy and is not a guarantee of size or fit.
BEST OFFER OPTION:  This saddle is a consignment and is offered as a Fixed Price item.  Use the "Best Offer" option to submit offers.  All offers are submitted to the consignor for consideration.  Submitting an offer does not automatically purchase the item.  Offers are good for 48 hours.  An accepted offer constitutes a purchase and the item cannot be returned and must be paid for immediately.  Offers submitted over a weekend or holiday will be reviewed on the next business day.
HORSE FIT DESCRIPTION:   This Stubben Romanus C.L.  dressage saddle would fit a medium-wide A-shaped wither with/out some hollowing behind the shoulders  and is somewhat downhill built.
RIDER DESCRIPTION:  This saddle is a great choice for the rider who prefers an unrestricted seat.  The lower pommel and cantle create a shallower, more continuous curve to the seat.  The twist and seat width are relatively narrow, the leg is slightly straight with a moderate sized thigh block.