Ideal Podhajsky Dressage Saddle 18" Wide 0431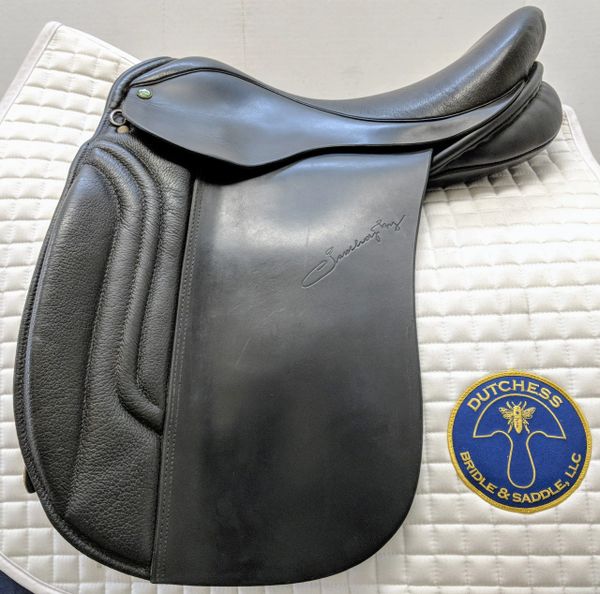 Ideal Podhajsky Dressage Saddle 18" Wide 0431
Click here to request a trial!

Ideal Podhajsky 18" Wide Dressage Saddle
Very good used condition, showing normal signs of wear. Ideal saddles are handcrafted in Walsall, England, and are known for quality in design and materials. The seat and knee pads are made with Schrumpf leather for a soft, pliable, and grippy feel!
The Podhajsky model was designed with Colonel Alois Podhajsky, then director of the Spanish Riding School. The model is designed for a comfortable, deep-seated feel without restricting the rider's movement.
FEATURES:
Seat size:

18"


Tree fitting:

Wide (points measure approximately 13")


Color:

Black


Leather:

Regular leather flaps, Schrumpf textured leather seat and knee pads.


Panel Type:

Wool-flocked with 2" rear gussets

Flap Length:

16.5"

Gullet Channel:

FRONT 5"/ MIDDLE 3" / BACK 2.5"

Additional Features:

Short billets
HORSE FIT DESCRIPTION
:
This saddle would fit a wide, A-shaped wither with little wither definition and a somewhat level back.
RIDER DESCRIPTION

:
This saddle is a great choice for the rider who prefers an unrestricted seat. The lower pommel and cantle create a shallower, more continuous curve to the seat. The twist and seat width are relatively narrow. The leg is slightly straight with moderately sized thigh blocks.