Borne' 18" MW Rebalance Dressage Saddle 0625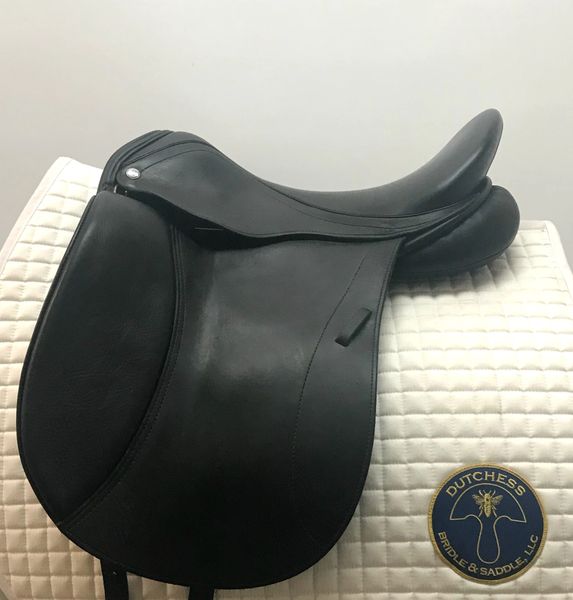 Borne' 18" MW Rebalance Dressage Saddle 0625

Borne' 18" MW Rebalance Dressage Saddle 0625

The Borne 18" MW Rebalance is in excellent condition and is 3 years old. This saddle was purchased new and has been well taken care of. Borne high quality saddles have excellent reviews and have been in the making for 31 years. 
FEATURES:

Seat Size: 18"
Flap Length: 
Tree Fitting: MW (points measure 12")
Leather: Textured skirt & flap with doe knee and seat
Color: Black
Panel Type: Leather panel with wool flocking. This saddle has front shoulder gussets and 2.5" rear gussets.
Gullet Channel: MIDDLE 3" / BACK 2.5"
Additional Features: This saddle features a swing billet and the 1st billet is attached to the point. Web is available for billet positioning behind the point. This saddle also has velcro blocks and a saddle cover from Borne'.
Serial Number: 104715
Horse Fit Description: This saddle would fit a medium-wide, A-shaped wither with some hollowing behind the shoulders and a moderate to level back.
Rider Description: This saddle has a moderate twist with a moderate width of seat. The more pronounced pommel and taller cantle make for a deep seat. The leg is relatively straight with a moderate thigh block. 

RETURNS NOT ACCEPTED.  Please take this saddle for a trial because 

PURCHASED ITEMS ARE NOT RETURNABLE.

INTERNATIONAL BUYERS ARE WELCOME!  International buyers are responsible for all customs, duties, taxes and other fees associated with the purchasing and importing of the item.  We will not ship via freight.  We will not mark "GIFT" on any paperwork.  Saddle trials are not available to international buyers.

MEASUREMENT DISCLAIMER: 

The fit of every saddle is unique. Even if the makers, models and sizes are the same between two saddles, the fit may be different. Adjustments and customizations may have been made or models may have changed over the years. In the case of hand-made saddles, no two saddler?s work is exactly alike. All measurements provided have either been taken directly from saddle stamps or are approximate measurements taken by DBS staff. This information is provided as a courtesy and is not a guarantee of size or fit.