Black Country 17.5" M GPD General Purpose Saddle 0601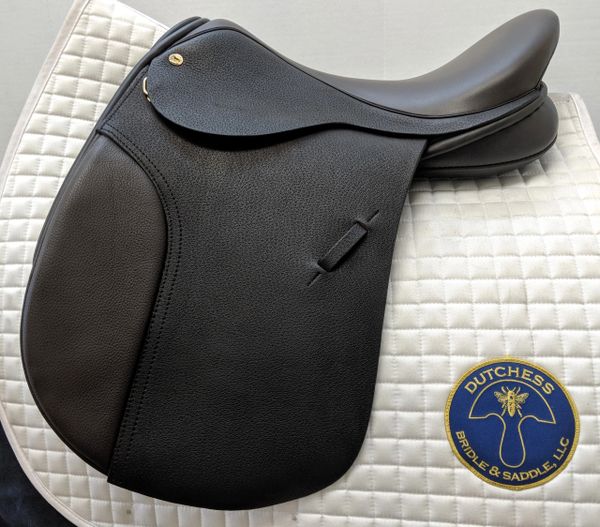 Black Country 17.5" M GPD General Purpose Saddle 0601
Click here to request a trial!

2017 Black Country GPD 17.5" M General Purpose
Brand new! This saddle was custom ordered but never used, and features premium leather and panel options. The GPD is one of Black Country's most versatile models. Ideal for pleasure riding, showing, or dressage, this saddle features a straight flap to provide support for dressage and maximum shoulder freedom. Black Country describes this saddle as particularly suitable for wide horses, cobs, and other native English breeds. 
This Black Country GPD has a 17.5" seat and medium tree, with grippy Vintage leather on the flaps and skirts and buttery-soft Schrumpf leather on the seat and knee pads. Calf blocks have been added to the sweatflap. This saddle also features the "K" panel, which is designed to increase weight-bearing surface and provide additional wither clearance for horses with a high wither or lacking muscle definition.
FEATURES: 
Seat size:

 17.5"


Tree fitting:

Medium


Color:

 Brown


Leather:

 Schrumpf/Vintage


Panel Type:

 Wool-flocked "K" panels with top front shoulder gussets

Flap Length:

 16.75"

Gullet Channel:

 FRONT 4.5" / MIDDLE 2.5" / BACK 3"


Saddle Age:

 NEW/2017 manufacture

Serial Number:

 25243
HORSE FIT DESCRIPTION
: 
This saddle would fit a medium, A-shaped wither with little wither definition and a somewhat level back. 
RIDER DESCRIPTION

:
 The moderately deep seat and slightly forward flap of this saddle are a great combination for the rider looking to do flat work and general riding or hunt seat in addition to low-level dressage.
RETURNS NOT ACCEPTED.  Please take this saddle for a trial because 

PURCHASED ITEMS ARE NOT RETURNABLE.

INTERNATIONAL BUYERS ARE WELCOME!  International buyers are responsible for all customs, duties, taxes and other fees associated with the purchasing and importing of the item.  We will not ship via freight.  We will not mark "GIFT" on any paperwork.  Saddle trials are not available to international buyers.

MEASUREMENT DISCLAIMER: 

The fit of every saddle is unique. Even if the makers, models and sizes are the same between two saddles, the fit may be different. Adjustments and customizations may have been made or models may have changed over the years. In the case of hand-made saddles, no two saddler?s work is exactly alike. All measurements provided have either been taken directly from saddle stamps or are approximate measurements taken by DBS staff. This information is provided as a courtesy and is not a guarantee of size or fit.