Back On Track Contender II Saddle Pad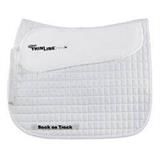 Back On Track Contender II Saddle Pad
A joint effort of ThinLine® and Back on Track® has resulted in the Contender II Saddle Pad which is undeniably the most technically advanced saddle pad available in the world. The new shimable (
shims sold separately
) saddle pad delivers therapeutic thermal heat from the Back on Track fabric combined with the renowned shock absorbing properties made famous by ThinLine.
The technologically advanced Contender II Saddle Pad from ThinLine and Back On Track is available for Dressage and Jumping. ThinLine is very well known for their lightweight shock absorbing saddle pads.
The Ultra ThinLine is a popular item and the same technology is utilized in the Contender II saddle pad. Many top riders have ridden in the traditional Ultra ThinLine for years to absorb shock, distribute weight and stabilize the saddle by using a wonderful no-slip impact technology. The shock absorption is designed to help horses and riders reduce back pain. Back on Track products are made from a one-of-a-kind fabric that blends ceramic powder into polyester threads. The result is the horse's body heat is reflected back in the form of a soothing thermal infrared ray that increases circulation. Each product has the ability to help reduce muscle soreness, inflammation, and stiffness. Back on Track products are recommended for both the treatment and prevention of stress related injuries.