Alamo Training Saddle 16.5" 0422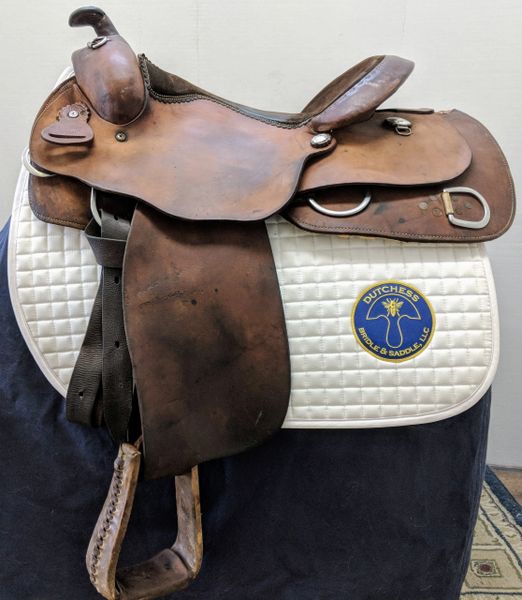 Alamo Training Saddle 16.5" 0422
Click here to request a trial!

Alamo Western Training Saddle 16.5"
Versatile, hardworking saddle for work, training, or trail riding. The leather (especially cantle) is marked from use but the saddle is sound and in good working condition. The saddle is equipped with multiple training rings, a grippy suede seat, durable light-oil leather, and rawhide stirrups.
FEATURES:
Seat size:

16.5"


Tree fitting:

5" gullet width and 5" gullet height


Color:

Light oil

Additional Features:

Training rings

Model:

Alamo Training Saddle 1700
HORSE FIT DESCRIPTION
:
This saddle is best suited for a wide horse with a U shaped wither with little to no wither definition, and who is built somewhat downhill.
RETURNS NOT ACCEPTED. Please take this saddle for a trial because

PURCHASED ITEMS ARE NOT RETURNABLE.

INTERNATIONAL BUYERS ARE WELCOME! International buyers are responsible for all customs, duties, taxes and other fees associated with the purchasing and importing of the item. We will not ship via freight. We will not mark "GIFT" on any paperwork. Saddle trials are not available to international buyers.

MEASUREMENT DISCLAIMER:

The fit of every saddle is unique. Even if the makers, models and sizes are the same between two saddles, the fit may be different. Adjustments and customizations may have been made or models may have changed over the years. In the case of hand-made saddles, no two saddler?s work is exactly alike. All measurements provided have either been taken directly from saddle stamps or are approximate measurements taken by DBS staff. This information is provided as a courtesy and is not a guarantee of size or fit.