*ON TRIAL* TW 15.5" WESTERN REINING SADDLE 0468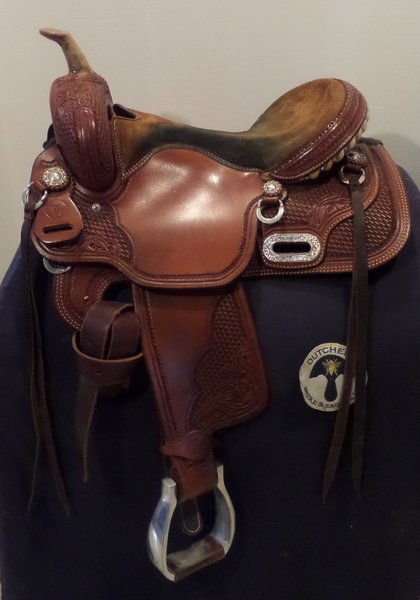 *ON TRIAL* TW 15.5" WESTERN REINING SADDLE 0468
15.5" Seat TW Western Reining Saddle

features smooth,

basket and floral tooled
leather

with a

grippy with suede seat

. The fenders measure

15.5

". The gullet
measures

6.5" wide and 7" high
(measured with the cushions attached, these can
be changed to adjust tree/gullet).
This saddle has fitting cushions (3D Fit System).
This saddle was intended for Arabs or Young horses but is adjustable with the 3 D Fit
System, it's only 23 pounds! Current
retail of this saddle new is

$2,550.
From TW:
TW Saddlery's new Reining saddle is here! The seat is a classic reining
design and the saddle is light weight at only 23 lbs, making it perfect for arabs and
young horses. This saddle improves performance in reining by allowing the horse
to move freely, shorter skirts ensure better lateral flexion and adjustable fit provides
better overall performance. You wouldn't want to perform a sport in shoes that
don't fit. Putting a non-adjustable saddle on your horse has the same chance of
fitting perfectly as randomly grabbing a pair of shoes off the store shelf and
expecting them to fit. Like feet, horses come in all sizes and often they are even
different from left to right side. So for a horse to respond positively to training
sessions and look forward to the next ride, your horse must be comfortable. Our
Reining Saddle is the only saddle in the world you can adjust each side
independently in all three dimensions of fit: width, arch, and angles. Horses
perform better when they can bend and move without excessive pressure and
pain from bad saddle fit. Our patented 3-D fit system makes bad fit a thing of
the past. Comfort for the rider is built into all TW Saddlery saddles and the
comfort is so different from traditional western saddles you must ride it to
discover just how comfortable hours in the saddle can be.
Purchase Information:
RETURNS NOT ACCEPTED. Please take the saddle for a trial because PURCHASED
ITEMS ARE NOT RETURNABLE.
INTERNATIONAL BUYERS ARE WELCOME! International buyers are responsible for
all customs, duties, taxes and other fees associated with the purchasing and importing

of the item. We will not ship via freight. We will not mark "GIFT" on any paperwork.

Saddle trials are not available to international buyers.
MEASUREMENT DISCLAIMER:

The fit of every saddle is unique. Even if the makers,
models and sizes are the same between two saddles, the fit may be different. Adjustments

and customizations may have been made or models may have changed over the years.

In the case of hand-made saddles, no two saddler?s work is exactly alike. All measurements

provided have either been taken directly from saddle stamps or are approximate

measurements taken by DBS staff. This information is provided as a courtesy and is not a

guarantee of size or fit.