SCHLEESE 17.5 #2 HEIKE KEMMER DRESSAGE SADDLE 0355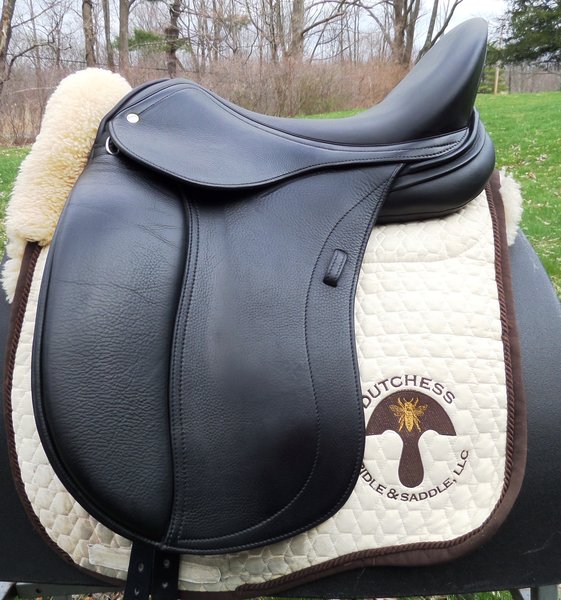 SCHLEESE 17.5 #2 HEIKE KEMMER DRESSAGE SADDLE 0355
SCHLEESE 17.5 #2 HEIKE KEMMER Dressage Saddle 0355
**With 26" Schleese Dressage Girth**
Please read all Trial, Purchase, Shipping and Return information below before considering this item. Thank you!
The SADDLE SPECIFICATIONS:
LEATHER: Regular leather

PANEL TYPE: Independent and wool flocked with no front gussets and 1.5" rear gussets

FLAP LENGTH: 16"

GULLET CHANNEL WIDTH: TOP 6.5 " / MIDDLE 3 " / BACK 3.5 "

TREE FITTING: #2 - measures approx. 10 " at the bottom of the tree points on the inside of the panel

SADDLE AGE: Purchased new September 2015

REPAIRS: none needed

ADDITIONAL FEATURES: This saddle features the Schleese AdaptaTree. It is sold with a 26" dressage girth and the Schleese saddle cover. We have original paperwork for verification.

SERIAL NUMBER: 71219S0615

CURRENT RETAIL: $ Current owner paid $6695.00 in September 2015

MEASUREMENT DISCLAIMER

The fit of every saddle is unique. Even if the makers, models and sizes are the same between two saddles, the fit may be different. Adjustments and customizations may have been made or models may have changed over the years. In the case of hand-made saddles, no two saddler's work is exactly alike. All measurements provided have either been taken directly from saddle stamps or are approximate measurements taken by DBS staff. This information is provided as a courtesy and is not a guarantee of size or fit.
HORSE FIT DESCRIPTION
RIDER FIT DESCRIPTION
PURCHASE, SADDLE TRIAL, & RETURN INFORMATION
This item has been measured, photographed and described as thoroughly as possible. If there is information needed that is not listed, please email us your question. We will not re-take or add additional photos. QUESTIONS AND BIDS MADE OVER A WEEKEND ARE NOT ANSWERED UNTIL MONDAY.
BEST OFFER OPTION:
Use the "Best Offers" option to submit offers. Offers are only good for 48 hours.

Offers submitted on Friday evening and over the weekend are not considered until the start of business on Monday. Please be aware that this may cause your offer to expire before it's even considered.

We strongly urge that saddles be taken on trial first. **OFFERS WILL NOT BE NEGOTIATED BEFORE A SADDLE IS TAKEN ON TRIAL**

This saddle is a CONSIGNMENT and is offered as a Fixed Price item ONLY.

All offers are submitted to the consignor for consideration. Due to the our agreement with the consignor, we do not have negotiating power on their behalf.

Submitting an offer does not automatically purchase the item.

Once both parties have agreed to the offer, the item must be paid for immediately.

Purchases made via accepted offers are FINAL SALES.
PAYMENT:
We accept e-checks, VISA, MASTERCARD, AMEX, DISCOVER and PayPal.

Items are shipped only when payment is received and cleared.

Accepted offers are considered purchased items and must be paid for immediately.
SADDLE TRIALS!!
We encourage you to TRY the saddle before purchasing - ALL SALES ARE FINAL.

To set up a trial, call us at 845-672-9402 or contact us at dutchessbridlesaddle.com.

INFORMATION REQUIRED FOR SADDLE TRIAL:
· Full name
· Shipping and billing addresses
· E mail address
· Phone number(s)
· Credit card information for security and shipping
SADDLE TRIAL SHIPPING:

We have divided the United States into shipping zones. Shipping charges range from $44.95 for East Coast locations to $68.95 for West Coast locations. Please check our map at http://www.dutchessbridlesaddle.com/downloads/used_saddle_trial_ship_zones.pdf for your location's shipping charge.

You will be charged for the shipping only - no holds are placed on your credit card for the purchase amount unless otherwise specified by the consignor. (Subject to change without notice).

The 7 day trial begins the day that the saddle is received by you. We receive automatic notification from UPS when you receive the saddle so we know the beginning day of the trial period.

PAYMENT & FEES:

You will be charged in full for the saddle if we do not hear from you on or before the 7th day of the trial.

All marks have been noted before the saddle is shipped. Saddles that are returned damaged will be charged 25% of the asking price plus repair costs.
RETURN POLICY:
ALL SALES ARE FINAL - We strongly suggested that the saddle be taken on trial first. Because we offer trials on all consignments and are obligated to pay the consignor once their saddle has sold, we can not accept returns.
INTERNATIONAL BUYERS:
INTERNATIONAL BUYERS WELCOME!!!

International buyers are responsible for all customs, duties, taxes and other fees associated with purchasing and importing this item.

Please use the Shipping Calculator to estimate the cost of shipping the item.

SHIPPING ESTIMATES: We require a complete street address, email address and phone number to process a shipping estimate.

We will not ship via freight. We will not mark "GIFT" on USPS paperwork.

Saddle trials are not available to international buyers.
PLEASE NOTE: I travel frequently and do my best to answer any questions that are emailed. Please be patient if you do not hear back from me immediately. Thank you for your understanding! QUESTIONS AND BIDS MADE OVER A WEEKEND ARE NOT ANSWERED UNTIL MONDAY.