OVATION PONY PADDED BRIDLE with COMFORT CROWN, SHAPED NOSE & RUBBER REINS NEW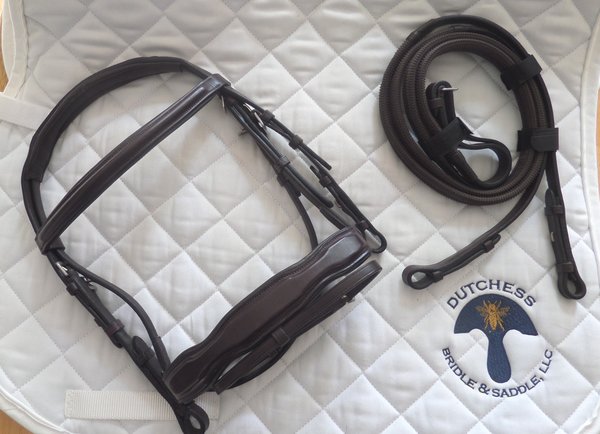 OVATION PONY PADDED BRIDLE with COMFORT CROWN, SHAPED NOSE & RUBBER REINS NEW
NEW!!
OVATION PONY SIZE PADDED BRIDLE WITH COMFORT CROWN - SHAPED NOSE -FLASH CAVESON and RUBBER REINS
Ovation Bridlework is styled to perfectly complement the conformation of your horse. This bridle is enhanced with rich detailing and, added comfort features, including stainless steel roller buckles and hook stud ends. The bridle features the comfort crown system, which is designed to reduce pressure on the poll and elimate any caveson slipping or pinching. The browband is also padded along with the flash caveson. The caveson is attached to the crownpiece on either side, and both sides have buckles for easier adjustment. Comes with 5/8" rubberized reins that are 48" long..
.
Regular retail price - $182.95
Our Price -$178.95
BRIDLE DETAILS
NEW

Rubber reins 5/8" with hook stud ends 48" long

Adjustable cheek pieces that hold the bit for an individual fit.
SHIPPING & RETURNS
We ship as soon as we have payment - VISA, MC, DISCOVER, AMEX and PayPal accepted!!!

.

International buyers are responsbile for all taxes, duties, customs and any other fees associated with purchasing and importing this item. We will not mark as "GIFT" for USPS shipping.