CROSBY 17" M EQUILIBRIUM DSL JUMPING SADDLE 0466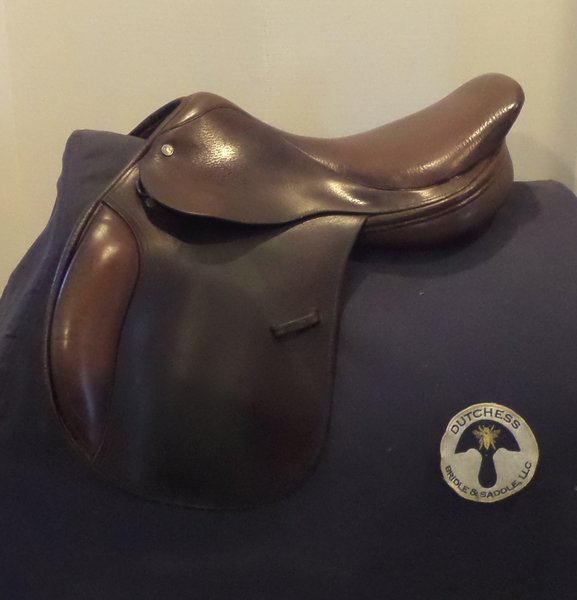 CROSBY 17" M EQUILIBRIUM DSL JUMPING SADDLE 0466
CROSBY 17" M EQUILIBRIUM DSL JUMPING SADDLE 0466 FEATURES:
LEATHER: Pigskin skirts & flaps - schrumph seat
PANEL TYPE: Foam

FLAP LENGTH: 13"
GULLET CHANNEL WIDTH: TOP 5 "/ MIDDLE 2" / BACK 1.5"
TREE FITTING: M measure approx. "11 at the bottom of the tree points.
SADDLE AGE: 30
SERIAL NUMBER: 0152 67 409

HORSE FIT DESCRIPTION: This saddle would fit a medium-wide, A-shape wither without hollowing behind the shoulders and a moderate to level back.

RIDER DESCRIPTION: This saddle is a great choice for the rider who prefers a moderately deep seat with a forward flap for flat or over fences work. Supportive front and rear blocks for security. A great choice for cross country, hunter paces,or hacking! (XC, JUMPING, JUMP TENDENCY GP)

MEASUREMENT DISCLAIMER

The fit of every saddle is unique. Even if the makers, models and sizes are the same between two saddles, the fit may be different. Adjustments and customizations may have been made or models may have changed over the years. In the case of hand-made saddles, no two saddler's work is exactly alike. All measurements provided have either been taken directly from saddle stamps or are approximate measurements taken by DBS staff. This information is provided as a courtesy and is not a guarantee of size or fit.
PURCHASE, TRIAL AND RETURN INFO:
This item has been measured, photographed and described as thoroughly as possible. If there is specific information that you need, please email us and we will be glad to assist you with your question.

SADDLE TRIALS!!

We encourage you to TRY the saddle before you purchase. PURCHASED SADDLES are not returnable. TO SET UP A TRIAL CALL US AT 845-672-9402 or contact us at sales@dutchessbridlesaddle.com

RETURNS NOT ACCEPTED. Please take the saddle for a trial because PURCHASED ITEMS ARE NOT RETURNABLE.

INTERNATIONAL BUYERS ARE WELCOME! International buyers are responsible for all customs, duties, taxes and other fees associated with the purchasing and importing of the item. We will not ship via freight. We will not mark "GIFT" on any paperwork. Saddle trials are not available to international buyers.