COUNTY 17.5 W PERFECTION DRESSAGE SADDLE 0363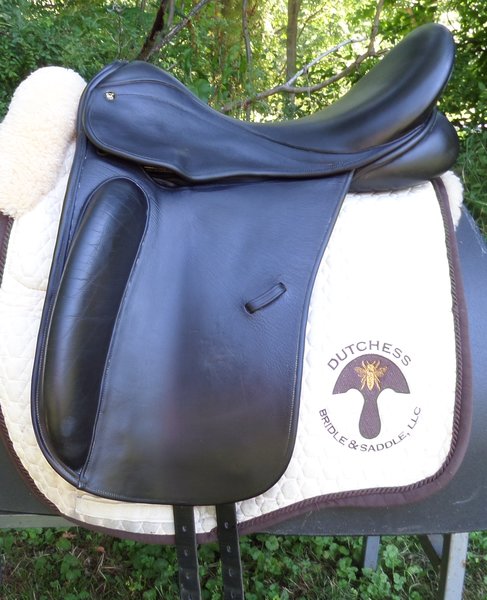 COUNTY 17.5 W PERFECTION DRESSAGE SADDLE 0363
The County Perfection Dressage Saddle (serial #06013106) features black, grippy covered leather. The seat is a 17.5" and the flaps are 16" long, measured from the bottom of the stirrup bar. The high pommel and tall cantle of this saddle combine to form a very deep seat along with large, supportive thigh blocks. Keep in mind that the depth of this seat may cause it to feel smaller than your usual seat size. This saddle is wool flocked with no front shoulder gussets and deep 3" rear gussets. The gullet channel measures 5" in the front and 2.5" in the middle and rear. This saddle has a wide fitting tree, measuring approximately 12" at the bottom of the tree points. This saddle would fit a wide, A-shaped wither with little wither definition and a somewhat level back. It was manufactured in January of 2006 and has been very well taken care of as it is in excellent condition! The County Perfection retails for over $5,000, and is for sale for HALF PRICE at $2,500! Don't miss this amazing deal.
From County: "When we asked many of the world's top riders what they felt when they sat in our newest dressage saddle, they exclaimed it's "Perfect". So we named it "Perfection". When customers asked us to explain the difference between the "Perfection" and other saddles, we realized that the feelings are indescribable. You have to experience it. "Perfection" is a feeling you don't want to miss".
Purchase Information:
RETURNS NOT ACCEPTED. Please take the saddle for a trial because PURCHASED ITEMS ARE NOT RETURNABLE.
INTERNATIONAL BUYERS ARE WELCOME! International buyers are responsible for all customs, duties, taxes and other fees associated with the purchasing and importing of the item. We will not ship via freight. We will not mark "GIFT" on any paperwork. Saddle trials are not available to international buyers.

MEASUREMENT DISCLAIMER:

The fit of every saddle is unique. Even if the makers, models and sizes are the same between two saddles, the fit may be different. Adjustments and customizations may have been made or models may have changed over the years. In the case of hand-made saddles, no two saddler?s work is exactly alike. All measurements provided have either been taken directly from saddle stamps or are approximate measurements taken by DBS staff. This information is provided as a courtesy and is not a guarantee of size or fit.