*ON TRIAL* BLACK COUNTRY 17.5" M SOLARE JUMPING SADDLE 0509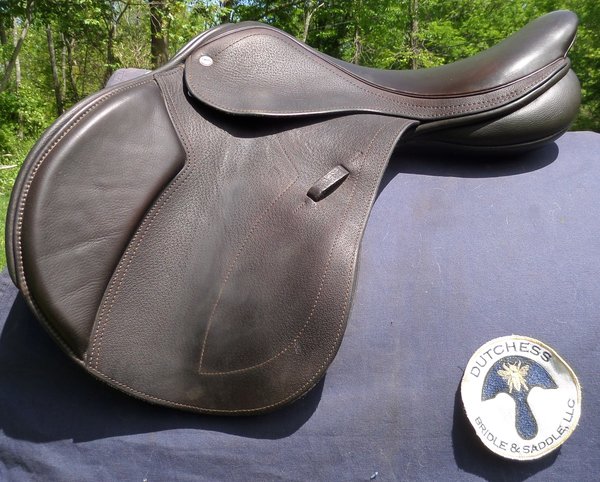 *ON TRIAL* BLACK COUNTRY 17.5" M SOLARE JUMPING SADDLE 0509
This absolutely gorgeous Black Country Solare Jumping Saddle (serial #20751) features textured printed vintage skirt and flaps and smooth schrumph seat and knees in brown. The flaps of this saddle measure 13.5" from the bottom of the stirrup bar, and 28" forward from mid cantle to the furthest forward point of the flap. The seat size is 17.5". The combination of a flatter, open seat with forward flap and smaller thigh block makes this saddle more of a classic close contact jumping saddle. The panels of this saddle are wool flocked and have 1" front gussets as well as 2" rear gussets. The gullet channel measures 5" in the front and 1.75" in the middle and rear. The tree of this saddle is Black Country's E12 tree, which is a single piece close contact tree in a medium width, measuring 10.5" at the bottom of the tree points. This saddle would fit a medium, A shaped wither horse with some hollowing behind the shoulders and has a moderate to level back. It was manufactured in August of 2015 and has very minimal wear. The Solare retails for $3,590 new. This saddle is currently priced well under retail at only $2,950!
From Black Country:
"We are proud to introduce you to the new Solare Jump Saddle – ideal for those riders looking for a quality saddle and the latest innovations. Made with vintage leather, the Solare offers excellent value for money with the saddle combining cutting edge design and technology providing riders of all levels and ability with a close contact saddle and a forward-fitting seat that allows freedom of movement. Custom-made as always, this saddle has a discreet knee roll providing support without blocking the leg position whilst the forward cut flaps help the rider's balance and security. The pure wool flocking in this versatile saddle helps to offer the perfect fit and allows greater adjustment options".
Purchase Information:

RETURNS NOT ACCEPTED. Please take the saddle for a trial because PURCHASED ITEMS ARE NOT RETURNABLE.
INTERNATIONAL BUYERS ARE WELCOME! International buyers are responsible for all customs, duties, taxes and other fees associated with the purchasing and importing of the item. We will not ship via freight. We will not mark "GIFT" on any paperwork. Saddle trials are not available to international buyers.

MEASUREMENT DISCLAIMER:

The fit of every saddle is unique. Even if the makers, models and sizes are the same between two saddles, the fit may be different. Adjustments and customizations may have been made or models may have changed over the years. In the case of hand-made saddles, no two saddler?s work is exactly alike. All measurements provided have either been taken directly from saddle stamps or are approximate measurements taken by DBS staff. This information is provided as a courtesy and is not a guarantee of size or fit.