Black Country 17.5" MW Quantum Jumping Saddle 0542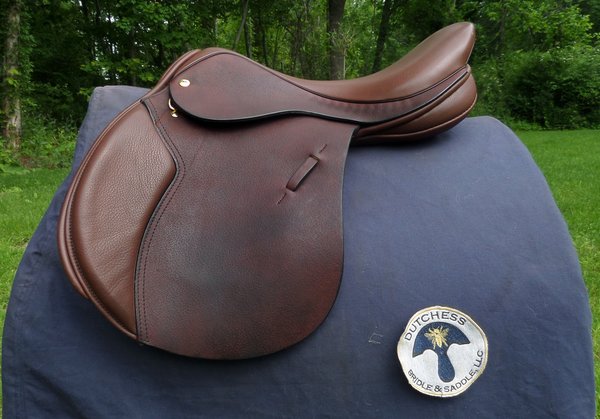 Black Country 17.5" MW Quantum Jumping Saddle 0542
The Black County Quantum (serial #T915) is a close contact type jumping saddle. It features grippy printed vintage leather on the skirt and flaps, as well as schrumph leather on the seat and knee in oxblood. It has wool flocked panels with 1.25" rear gussets. The seat is marked 17.5", but it measures a 17". The flaps measure 13" from the bottom of the stirrup bar, and are relatively forward, measuring 27.5" from mid cantle to the furthest forward point of the flap. The combination of a flatter, open seat with a forward flap and small thigh block makes this saddle more of a classic close contact jumping saddle. This saddle has a medium/wide tree, measuring approximately 10.5" at the bottom of the tree points, and would fit a medium/wide horse that does not have hollowing behind the shoulders and has a moderate to level back. This saddle was manufactured in 2010 and is in DEMO CONDITION! Current retail is $3,500+ BUT you can get this saddle today for only $2,500!
From Black Country: "The Quantum Jumping saddle is built on a close contact tree and panel, it gives a flatter seat required for stadium or cross country jumping. Knee and thigh blocks to support your position. Benefit from a close contact saddle that has flocked, not latex molded panels. The 100% wool flocking allows adjustment for that perfect fit".
Purchase Information:

RETURNS NOT ACCEPTED. Please take the saddle for a trial because PURCHASED ITEMS ARE NOT RETURNABLE.
INTERNATIONAL BUYERS ARE WELCOME! International buyers are responsible for all customs, duties, taxes and other fees associated with the purchasing and importing of the item. We will not ship via freight. We will not mark "GIFT" on any paperwork. Saddle trials are not available to international buyers.

MEASUREMENT DISCLAIMER:

The fit of every saddle is unique. Even if the makers, models and sizes are the same between two saddles, the fit may be different. Adjustments and customizations may have been made or models may have changed over the years. In the case of hand-made saddles, no two saddler?s work is exactly alike. All measurements provided have either been taken directly from saddle stamps or are approximate measurements taken by DBS staff. This information is provided as a courtesy and is not a guarantee of size or fit.